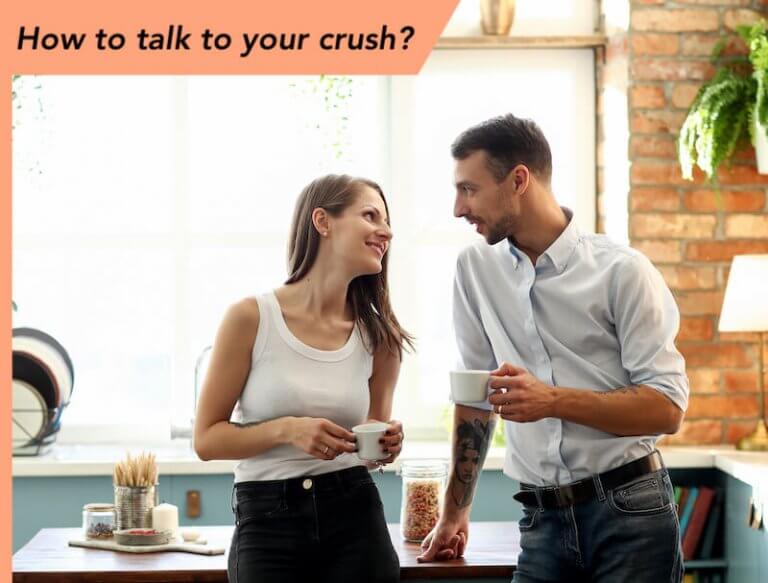 How to Talk to Your Crush
Does the idea of talking to your crush make you feel uneasy? Do you get tongue-tied whenever your crush is around? This should not be the case because nothing could be more exciting in this world than sharing a conversation with someone you really like.
So if you're one of those people who think that talking to your crush is difficult and stressful, you're having the wrong impression – or perhaps, the wrong attitude.
Here's the real score. Talking to your crush is meant to be special and magical. Whatever nervousness you're feeling is all just a part of your emotion and vulnerability as a person. It's purely a psychological response due to the overwhelming wave of excitement. The more you dwell on your nervousness, the more that you're actually encouraging that feeling.
Talking to your crush may trigger the "fight or flight" reaction in your body, if you get extremely nervous. It's the same feeling you get when you're in the face of extreme danger. The typical signs include faster heart rate, sweating, inability to think clearly, and feeling weak.
Science explains it as our brain's natural chemical response to a stressful situation and anxiety. It happens when the brain chemicals, epinephrine and norepinephrine, get into our bloodstream.
The question is, why would you allow the idea of talking to your crush stress you? Does it make complete sense to entertain your nervousness and fear? Is it possible to talk to your crush without having to deal with those overwhelming feelings? Allow us to uncover some tips and tricks on talking to your crush in the coolest and calmest way possible.
1. Practice Mind-Conditioning.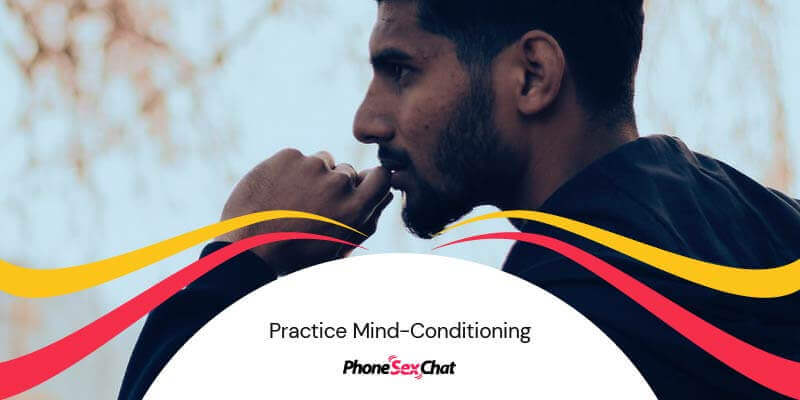 Condition your mind to think positively by entertaining good thoughts about the idea of talking to your crush. The more you condition your mind to think positive, the more that you're encouraging yourself to overcome your anxiousness.
Talking to a person you like is easiest when you have a positive attitude. Believe that you have something good to share and that you deserve their attention.
Try to stay away from the negative side of things because this can severely affect your focus and presence of mind. Instead, consider your crush just like any other individual that you're comfortable talking to. Regardless of how special and unique, your crush is, this person also has their own fears and vulnerabilities just like you do. That's exactly what makes them just as "human" as you are.
Therefore, talking to them should be exciting and not terrifying. If you condition your mind to think this way, you might just look forward to talking to your crush instead of being anxious about it.
2. Look Your Best.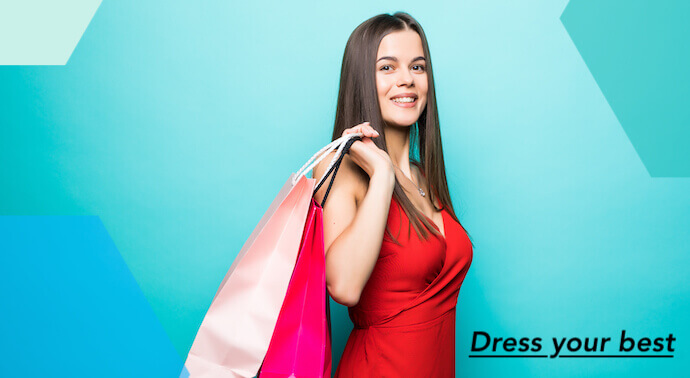 It is common knowledge that you need enough self-confidence to talk to your crush. However, what contributes to self-confidence? Start with the basics by looking at your best.
Being presentable and looking good can significantly help you amplify your confidence level. It may also give you that spunk that you need to beat whatever uncertainties you might have about yourself.
Knowing that you look good can make you feel ready for anything, and when you're ready, you feel more confident about facing anyone, like the person that makes your heart skip a beat. Remember that it doesn't cost much to look your best. All it takes is good personal hygiene, nice and clean clothes, clean-smelling cologne, good grooming, and a beautiful smile.
3. Say "Hi" and Smile at Him/Her.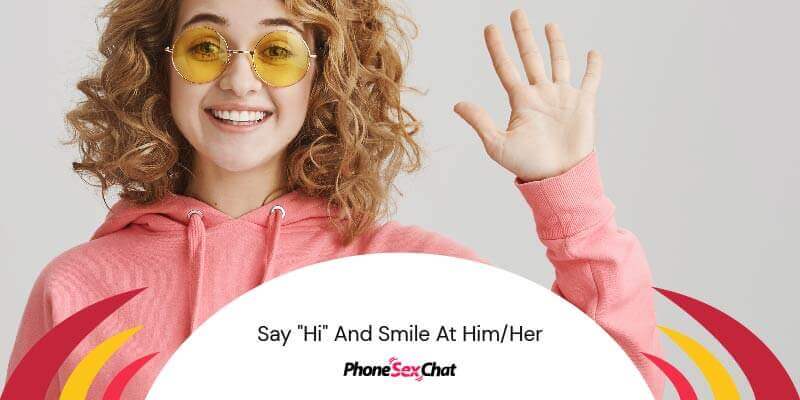 Make your crush notice you by saying "hi" and flashing a friendly smile whenever you see or run into them. This is an effortless way of letting them know that you exist and are aware of their presence. Saying "hi" with a smile doesn't equate to flirting unless you make other suggestive moves.
In fact, it's a nice and friendly gesture that is also a sign of courtesy for a lot of people. It's also the easiest way to talk to your crush because saying "hi" is a random act of kindness, even between strangers.
Needless to say, whenever you run into your crush in your school campus, workplace, cafe, club, or anywhere else, make it a point to give them a pleasant greeting and a warm smile.
This is perhaps the most undemanding yet effective way to get their attention. If you're lucky, this simple greeting can initiate small talk or casual conversation between you, which could eventually turn out into something special.
4. Think of a Good Reason to Approach Your Crush.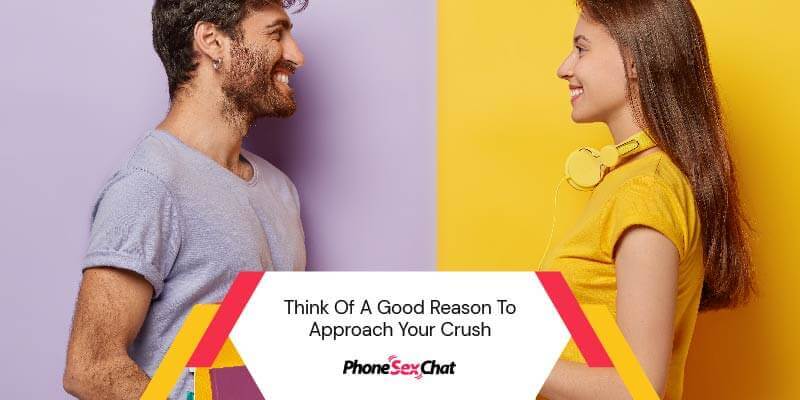 Having a valid reason to approach and talk to your crush can make it all seem very natural. It could be as plain and simple as asking about an assignment or project. You may also inquire if she knows a certain person or if she happens to be related to someone you know. There are many ways to come up with a good excuse to talk to them, as long as what you have in mind makes sense.
The mere thought of having a purpose of approaching that person you admire makes the idea plausible – like it's the most natural thing to do. It's also the perfect chance to get close to your crush and possibly establish a connection.
In the end, finding the means to dazzle them with your wit and charm is the perfect foundation you need, so you can plan for your next move. So if you believe that you can muster enough courage to ask her a question, find the perfect timing and just go for it.
5. Think of Clever Conversation Starters.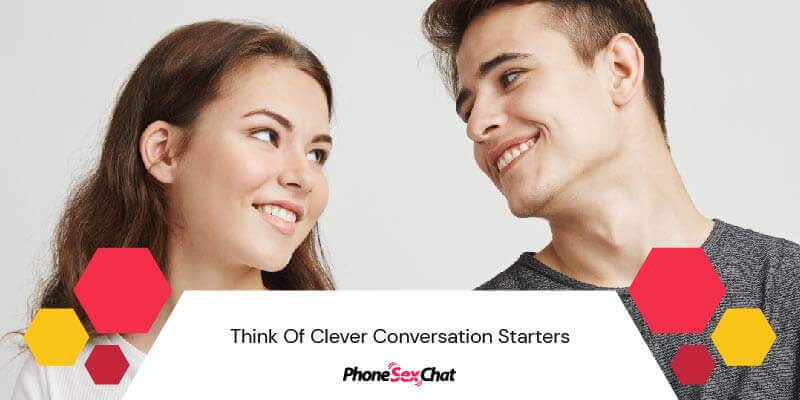 If you tend to get tongue-tied whenever you're under pressure, you can benefit from having a list of clever conversation starters. You can either think of a catchy line or question; or draw inspiration from the classics. Either way, you'll need to practice your delivery to make it all seem natural and to avoid sounding like you're reading a script.
There are different ways to initiate a conversation with your crush. The most crucial part is drawing a response from her, which is essential to elicit the communication process. To give you an idea of how to talk to your crush, here are some conversation starters that you can use as reference points to establish your own ideas;
"I can't think of anything right now. Would you mind giving me a piece of your mind?"
"I'm working on a survey right now. Can you tell me what you usually do on weekends?"
"What are your thoughts about 'love at first sight'? How about 'love at second sight'?"
"I'm terrified of rejections. Is there anything I could do to avoid that?"
"My plan was to impress you with my pickup line. Unfortunately, I forgot about it the second I got here. Anyway, hi, I'm (yours)."
6. Maintain Eye Contact.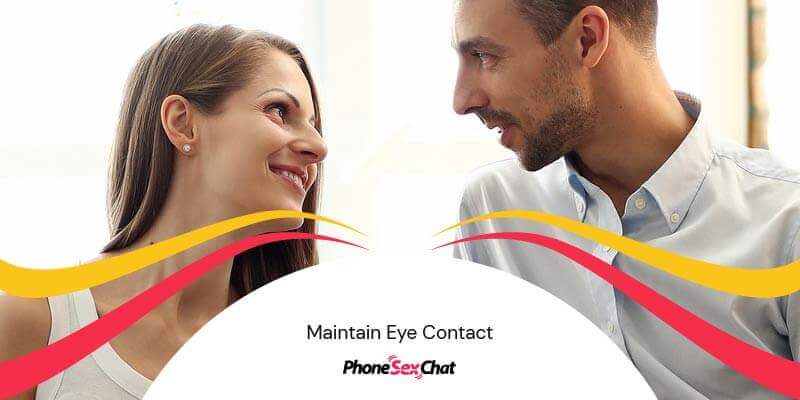 When you're face-to-face and talking to your crush, always maintain eye contact. Looking at a person in the eye reveals confidence and conviction in what you are saying. If you're standing or sitting side by side, look on his/her direction, and try to meet their eyes while you're talking. This gesture means that you're acknowledging their presence, and you're focusing your attention on them.
You may feel hesitant about keeping eye contact, but it's the surest way to make a good and lasting impression. So regardless of how you feel, try to maintain eye contact when talking to your crush. You'll feel a stronger sense of assurance if you're able to see their eyes and their facial expressions during your interaction.
7. Express Your Intention to Be Friends.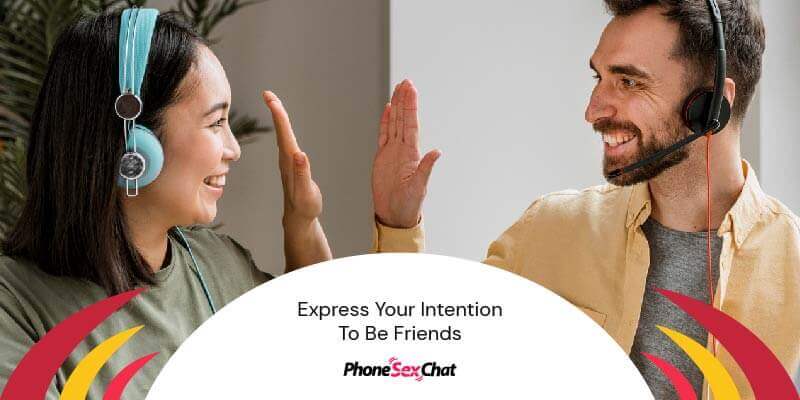 When talking to your crush, try to express your intention to become a friend. Make this person feel that you are trustworthy and dependable. For example, let your crush know about your willingness to help with assignments, projects, and other tasks.
If she needs a ride, you can make an offer; and if you see her carrying a lot of stuff, be there to help her out.
Making your crush feel that you don't mind doing things for her whenever you can is the simplest way to communicate your good intentions. So take it one step at a time and don't hesitate to offer her your friendship.
Being friends can potentially open many opportunities for you to spend time together, share interesting stories, do exciting activities, and enjoy each other's company.
8. Don't Interrupt While Your Crush Is Talking.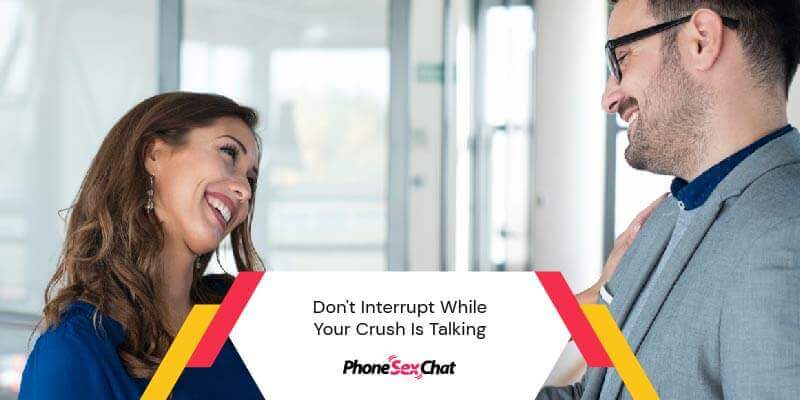 Interrupting someone while they are talking is not just discourteous. It is also downright rude. To make a good impression while talking to your crush, listen more, and talk less.
If you've ever heard about the saying "less talk, less mistake", then you can learn a lot from it. The key is to allow your crush to talk, listen to what they are saying, and respond in the best way you can.
9. Make Your Crush Feel That They Have Your Undivided Attention.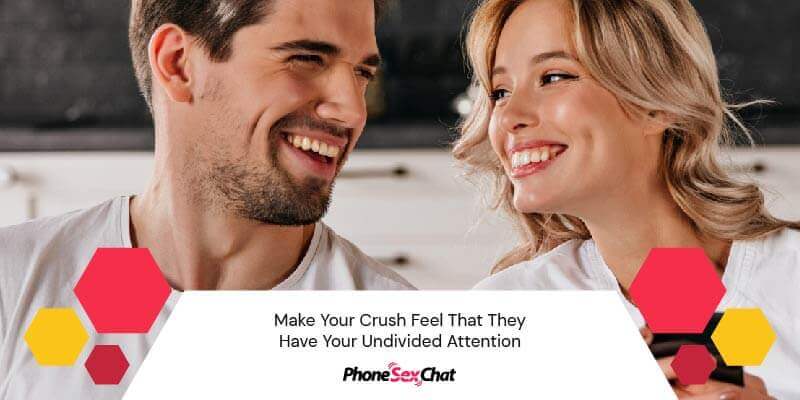 When talking to your crush, make them feel that they have your full attention. Avoid looking around, crossing your arms in front of your body, and checking on your watch or phone.
These are all gestures that can give them the impression that you are not interested in and looking for a way out of the situation.
While it is understandable that you feel nervous or tensed, being conscious about the level of attention you're giving to your crush is crucial. The least you could do is focus and make them feel that you're happy to share your time with them.
Remember that it is always easy for anyone to misinterpret your behavior, especially if you're acting uncomfortable and restless while talking to your crush.
10. Go Direct to the Point.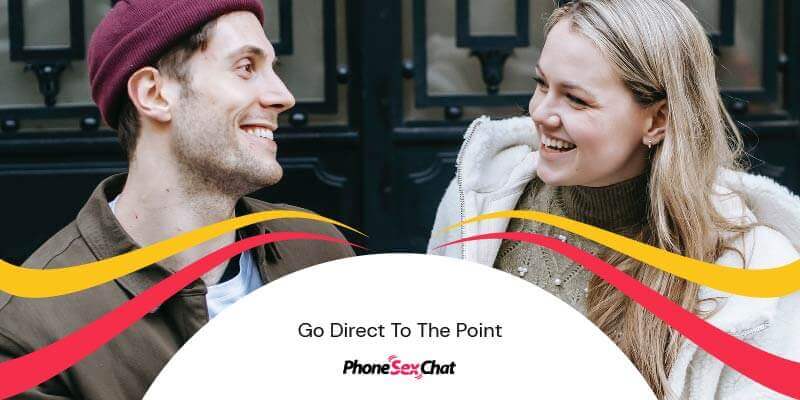 When you're talking to your crush, it doesn't make sense to beat around the bush. It would only complicate things and add to the confusion. The more direct you are with how you communicate, the more you can express yourself clearly and the less agony you'll have to deal with.
One thing that you need to be aware of is that the sooner you're able to make your point, the easier it is for you to determine your chances.
If she's interested, she'll respond positively; and if not, getting the message loud and clear would give you a valid reason to move on. The point is that you'll have to confront the situation in one way or another, so you might as well be honest and straightforward about it.
For example, your goal is to get her number. You don't have to make up some lame excuse just to convince her to give it to you. Instead, ask her politely by saying, "I would really love to call you sometime. Can I get your number?" or "I would really love to talk to you again in private. Can you please save your number on my phone?"
Being straightforward doesn't require you to gather up all your courage and self-confidence. You have to be genuine and sincere. Regardless of how you approach the situation, the response that you'll get from your crush reveals whether she's going to entertain you or not.
The Real Score.
Don't stress yourself thinking about the winning moves on how to talk to your crush. Optimism and a good mindset will make it easier for you to talk to someone you like. Don't mistake the excitement for nervousness. The rollercoaster of emotions are just chemical reactions in our brain in response to the situation.
When it comes to this concern, the real score is to train your mind to look at the positive side of things. Most of the times, it is the negative thoughts, hesitations, and "what if's" that tend to make people nervous – not the act itself.
If you think of it from a positive perspective, talking to your crush can actually be the most exciting and magical highlight of your day. Therefore, there is absolutely no reason for you to feel terrified or anxious about it.